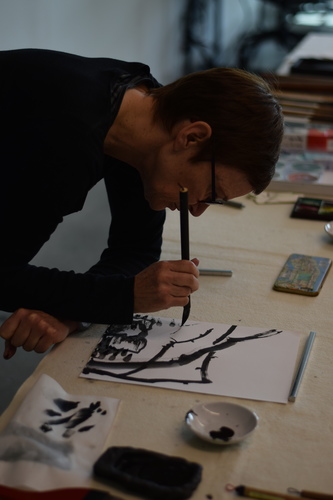 Photo by Chalice Mitchell, 2019

Elisabeth Condon is an American artist known for her multilayered pour paintings combining landscape, scroll painting, vintage textiles, and glam rock influences.

Born in Los Angeles, Condon lives and works in New York. Taking inspiration from the lansdcape, Condon has been Artist in Residence at Montello, UCross, and Morris Graves Foundations, Carrizozo Colony, Wave Hill Winter Workspace, Art + History Museums Maitland, Swatch Art Peace Hotel Shanghai, Fountainhead, Florida Everglades (AIRIE), Grand Canyon South Rim, and Yaddo. Condon is a recipient of the 2018 Joan Mitchell Foundation Artist & Sculptors Grant, the 2015 New York PULSE Prize, a New York Studio School Mercedes Matter Award, a Pollock Krasner Foundation Grant, a Florida Individual Artist Grant, and numerous research grants from the University of South Florida Tampa where she held tenure from 2003 to 2014.

The Perez Museum Miami, Tampa Museum of Art, United States Foundation of Art in Embassies Program Beijing, and JP Morgan Chase have acquired Condon's work, which has been featured in numerous online and print publications including Hyperallergic, artcritical, Artnews, Arts + Antiques, New York Observer, and the Miami Herald.